WTAMU Saxophone Studio Recital
November 16 @ 7:30 pm

-

8:30 pm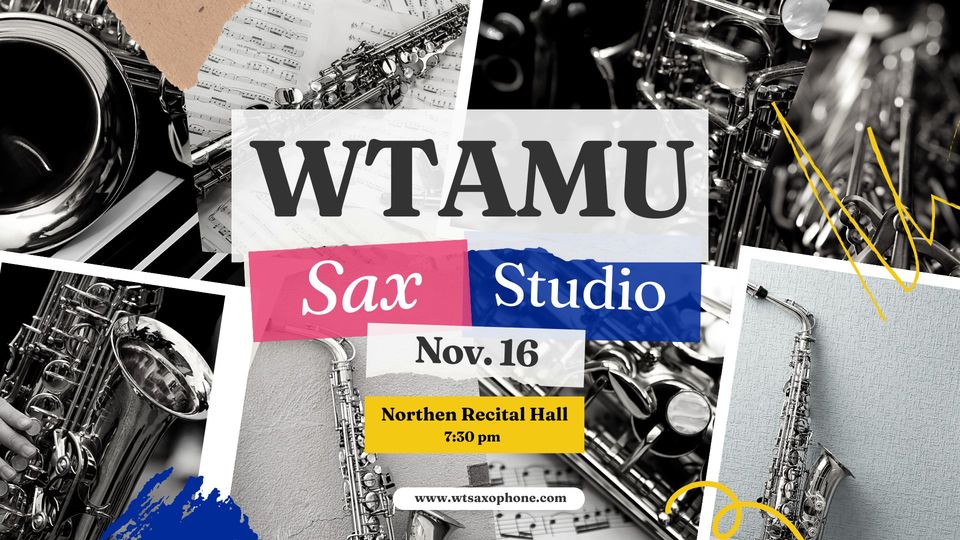 Join us for a thrilling evening of saxophone artistry at the WTAMU Saxophone Studio Recital!
 Date: Thursday, November 16, 2023

 Time: 7:30 pm

 Venue: Mary Moody Northen Recital Hall
This diverse program features the incredible talents of our WTAMU saxophone students, both solo and in ensembles. Here's a glimpse of what you can expect:
 Strange Humors by John Mackey
Morii Quartet (Dillon Martin, Joshua Carrillo, Zach Limb, Coby Mount) with Tristan Mouw on djembe.
 Song of Life by Takatsugu Muramatsu
Parea Quartet (Zeke Roberts, Katie Aschoff, Emanuel Garcia, Carter Rybarski)
 Volcanic Ash by Chris Evan Hass
Meliora Quartet (Joseph Fondren, Michael Larson, Orlando Moreno, Winter Hartnett)
 Prayer on the Seashore by Kohei Kondo
Coby Mount, baritone saxophone
 Luminous Sky by Chris Evan Hass
Braden Lefevre, Max Gray, and Carter Rybarski
 Quartet Concerto by Philip Glass
Kaizen Quartet (Katie Aschoff, Sierra Ochoa, Caydee Burden, Abby Coon)
 Beat Me by Barry Cockcroft
Braden Lefevre, tenor saxophone
 Sax & Co. Song by Philippe Geiss (ft. Tristan Mouw, drums)
 Lux Aurumque by Eric Whitacre
 From a Dark Place by Keaton Garrett
 Jarba, Mare Jarba by Stacy Garrop
WTAMU Saxophone Ensemble