WTAMU Symphonic Band presents John Mackey's Harvest: Concerto for Trombone performed by Dr. John Shanks
April 27, 2022 @ 8:00 pm

-

9:30 pm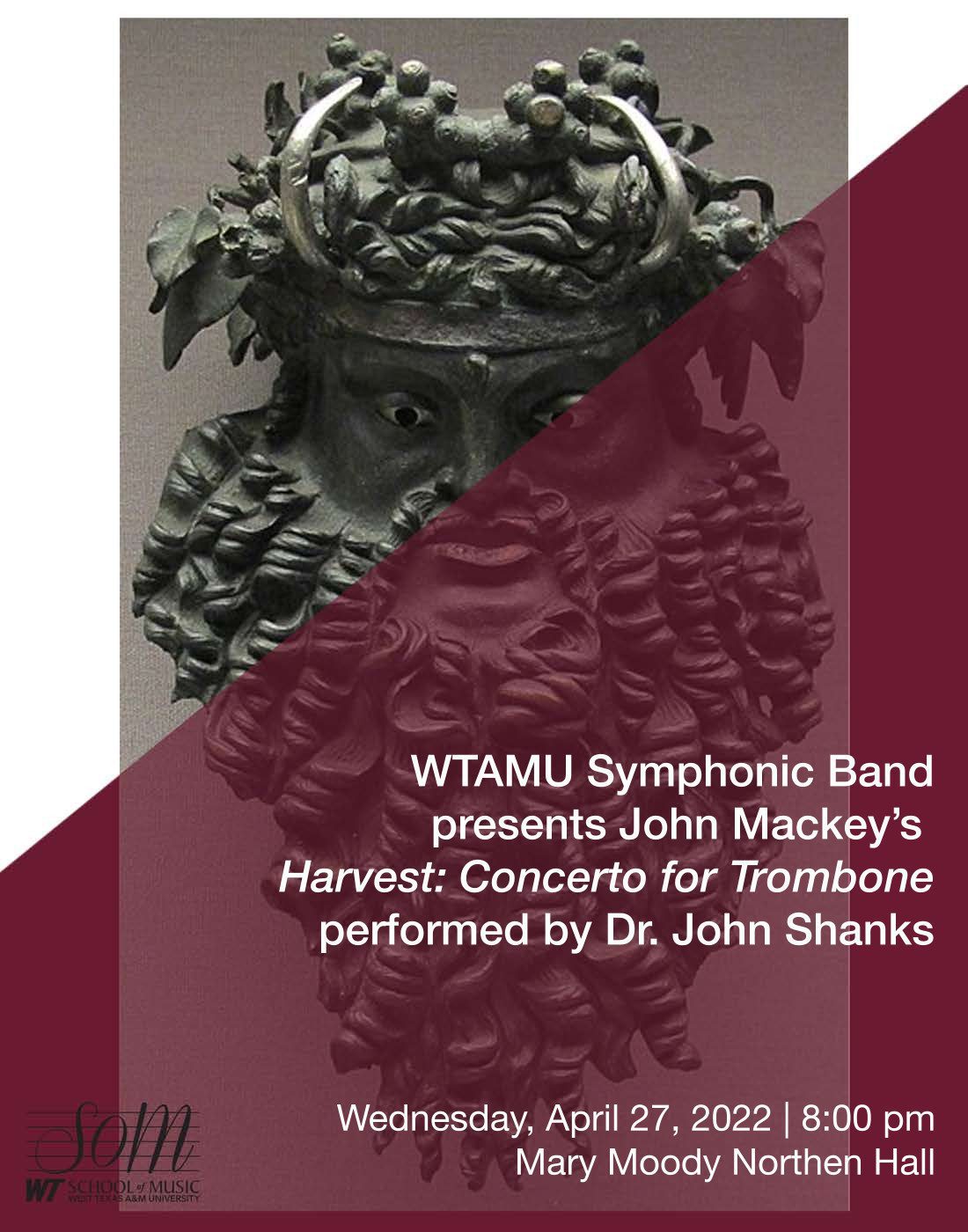 The concert band's performance will be followed at 8 p.m. by the WT Symphonic Band. The ensemble's performance will feature Dr. John Shanks, WT professor of trombone, on John Mackey's "Harvest: Concerto for Trombone."
"This exciting work is considered to be one of the most challenging works from the trombone repertoire and also is a tour de force for the winds and percussion," said Don Lefevre, associate professor of music and WT Symphonic Band conductor.
The concert also will feature Percy Aldridge Grainger's "Children's March," "Frank Ticheli's "Lux Perpetua" and Alfred Reed's "El Camino Real."
Admission for both concerts is free. Call 806-651-2840.
Fostering an appreciation of the arts is a key mission of the University's long-range plan, WT 125: From the Panhandle to the World.
That plan is fueled by the historic, $125 million One West comprehensive fundraising campaign. To date, the five-year campaign — which publicly launched Sept. 23 — has raised about $110 million.
Music Selections
Children's March by Percy Aldridge Grainger
Trombone Concerto: Harvest by John Mackey, featuring Dr. John Shanks
Lux Perpetua by Frank Ticheli
El Camino Real by Alfred Reed
Symphonic Band Personnel
Flute
Kyndahl Britton, Pflugerville
Alejandra Mulgado, Clovis, NM
Abbie Wade, Missouri City
Sara Rogalski, Cypress
Amaris Contreras, Alice
Diego Romero, Amarillo
Alex Lam, Sachse
Emily Henson*, Hereford
Oboe
Tobin Brooks, Canyon
Abigail Hite, Carlisle, PA
Danny Maldonado, Mesquite
Bassoon
Meghan Brooks, Canyon
Riley Lusk, Lubbock
Daniel Gonzales, Taylor
E-flat Clarinet
Joey Henriquez, Arlington
B-flat Clarinet
Rachel Stansell, Midland
Dayton Scholz, Amarillo
Shelby Easley-McPherson*, Canyon
McKenzie Bonner, Midland
Ethan Hughes, Wichita Falls
Grace Lindauer, Keller
Shawn Frausto, Amarillo
Faith Powell, Amarillo
Sydney Fishburn, Spearman
Bass Clarinet
Gage Winkle, Arlington
Kaitlyn Rubinski, Amarillo
Graham McFarland, Amarillo
Saxophone
Braden Lefevre, Canyon
Dillon Martin, Odessa
Maxwell Gray, Tomball
Aaron Erickson, Georgetown
Carter Rybarski, Brenham
Trumpet
Emily Sotelo, Midland
Mason Lafferty, Amarillo
Adam Johnson, Springtown
Payne Morris, Odessa
Brayden York, Odessa
Chris Barber, Muleshoe
Tess Homer, Amarillo
Horn
Morgan Hite, Carlisle, PA
Conlan Means, Wheeler
Luke Rodriquez, Midland
Gaby Padilla, Amarillo
Jorge Lopez, Rio Grande City
Luigi Bencomo, Dalhart
Carlie Marcotte, Lewisville
Bailee Rettig, Brenham
Tenor Trombone
Abraham Wood, Floresville
Spencer Owens, Levelland
Cyrus Jackson, Baytown
Trace Bails, Amarillo
Bass Trombone
Justin Slaughter, Odessa
Damonusess Brooks, Houston
Euphonium
Patrick Lucas, Odessa
Noah Portillo, Lubbock
James Selman, Amarillo
Tuba
Lucas Martinez, Lewisville
Chris Perez, Odessa
Ty Solomon, Fritch
Isaac Ortiz, Canyon
String Bass
Electric Bass
Danny Maldonado, Mesquite
Piano
Percussion
Noah Bradshaw, Joshua
Hien Doan, Amarillo
Chema Garcia, Memphis
Colton Gallandat, Joshua
Mason Rumsey, Joshua
Juan Montoya Buenrostro, Amarillo
Jacob Diaz, Amarillo