WT Band Scholarship Spotlight: Jack Montgomery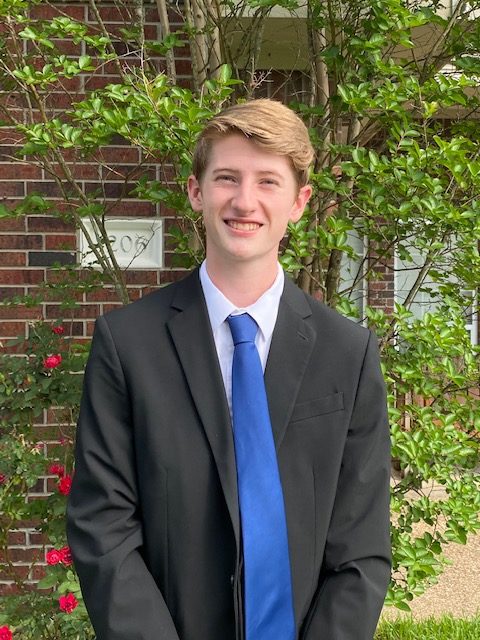 My name is Jack Montgomery, and I am from College Station, Texas. I went to high school at College Station High School and was a member of the mighty cougar band for four years and was an assistant drum major in my senior year. I was a member of the 2021 TMEA All-State band, and an alumni of the Boston Crusaders Drum and Bugle Corp in 2021 as well.
I am now a freshman and apart of the Tuba/ Euphonium studio at WTAMU's school of music. I am receiving the Don Baird Low Brass Scholarship, as well as the Dr. Gary and Mariellen Garner WTAMU Bands Scholarship. I am also very grateful to be receiving the Brazos Valley Friends of Chamber Music Scholarship, and a merit scholarship from West Texas A&M.
Why I Chose WT
I chose WT for many reasons. As I was introduced to the band world, I realized that many of the educators around me that I have grown to know and love all came from WT. In every year of schooling, I have found a WT alumnus to be there guiding the way, molding into the musician I am today, and ultimately guiding me to WT. My biggest influence of all was my parents. Both of my parents went to WT, and that was how they met, so you could say I am coming back to my roots in a sort of way. I was able to see more into what WT had to offer because of this new insight, which helped guide me to make my decision. WT also offers a quality education for an affordable price, with one of the best schools of music in the state historically and in the present. The level of professionalism held by the school is remarkable, and every student can get personalized and individual lessons and teaching from the best professors in the state.
Musical Aspiration
In my music career, I hope to become a music educator in the state of Texas and teach others about music in hopes that people can find their own passions in life through music. I also believe music and band is a fun, rewarding experience to have had in your life and spreading that experience to others is a huge reason for being a band director.
What I Love About Music
I love that music provides an outlet for creativity and expression in all kinds of people. Music is such an intricate thing too that anybody can be a part of. It can tell stories, express emotions, or just be a cool way to pass the time. Music allows us to explore different emotions while also being such a readily available thing to have at our fingertips.
Favorite Piece I Have Gotten to Perform
My favorite piece I have had the privilege to perform was probably "The Melody Shop" by Karl L. King. The piece features the euphonium section, showing off the capability of the instrument on technical excerpts, lyrical excerpts, and the power it can hold as a low brass instrument in an ensemble. As a euphonium player, this was a great opportunity to advance as a musician and perform some great music.
Go-to Quote
"If you look for the light, you can always find it. But if you look for the dark, that is all you will ever see"
- Uncle Iro