WT Band Student Spotlight: Dillon Martin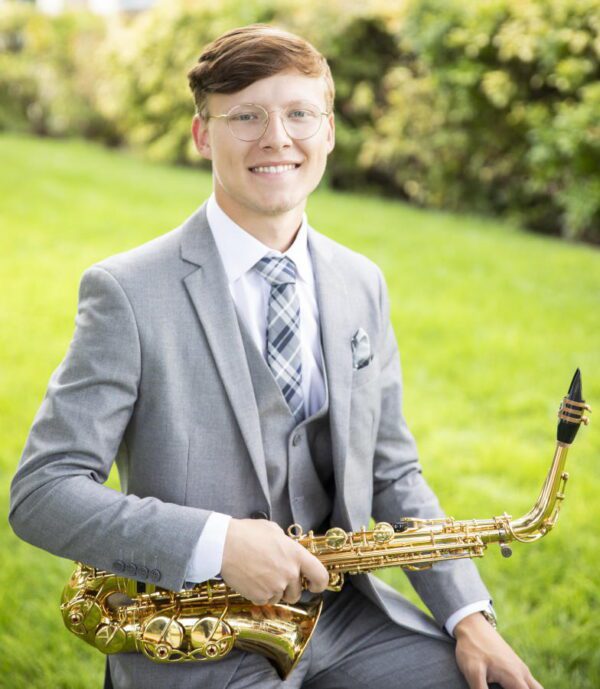 Dillon Martin
"Fail Hard. Fail Early. Fail often. Learn from it then succeed" - Will Smith
Dillon Martin is currently a freshman in the WTAMU saxophone studio where he is a member of the Marching Band, Symphonic Band, Jazz Band I, Pep Band, Saxophone Ensemble, and the tenor chair of the Komorebi Quartet. He is a recipient of a Music Scholarship, the Marcia McEntyre Zoffuto Memorial Music Scholarship, Don and Sybil Harrington Academic Scholarship, and an Institutional Scholarship. As a student at Permian High School in Odessa, Dillon was a two-time member of the 6A Texas All-State Band, participated in State Solo and Ensemble, attended WTAMU Band Camp for six years, competed in the Houston Underground competition, and was accepted into prestigious collegiate music programs at the University of Texas, Ithaca College, and West Texas A&M University. He is currently preparing to travel to Houston to compete in the MTNA Solo Competition in November.
Why did you decide to come to WTAMU?
I came to WT because of the enriched history of success and excellence, as well as the elevated level of musicianship. I feel that WT was a place where I could be myself and grow the most as a musician, since it is a little bit of a smaller university so I could get more personalized attention from the professors. On top of this, as a saxophone player WT is all I could ever want with the excellence from the jazz professor, Mr. Storey, the band director, Mr. Lefevre, and the saxophone professor, Dr. Barger. To top it all off, Dr. Barger teaches in such a way that I feel anyone could understand even if they had no musical background whatsoever, and I personally have the same outlook somewhat that Dr. Barger has on music and just life in general. Because of this, I can grow very quickly on my instrument and progress my level of musicianship to a very high level and a much quicker rate.
What are your musical aspirations?
My goal for a long time has been to pursue my musical career as hopefully becoming a professor of saxophone at a university and perform whenever possible. This would require me to go all the way through masters and doctoral school, which I plan to do at hopefully some place like University of Michigan, Texas Tech, University of Texas Austin, or others. I love teaching students almost as much as I like playing my instrument, as it is a very rewarding experience and I learn a lot about the instrument and myself along the way. Being able to do this at the collegiate level, while still being able to perform around the world and participate in workshops sounds like the exact life I want to live and more.
What do you love most about music?
What I love most about music is how it can take you into another reality. If you are having any type of issues whatsoever to put you into a negative state of mind, music can bring you completely out of that and make everything else suddenly okay. People fix problems with music, as well as save lives. On the other hand, music can set the mood for any given occasion, especially within movies, but within real life as well and I think that is surreal.
What is your favorite piece that you have performed or would like to perform?
My favorite piece is Fantasia for alto saxophone by Claude T. Smith. This is my favorite for a whole lot of reasons, but this piece is truly what got me wanting to play saxophone as my career. Specifically, Dr. Barger's recording is the very first solo saxophone piece I ever listened to, and I had somewhat of a realization while listening that I wanted to do things like that with my life. After listening to the recording, I kind of started pushing harder and focusing more. This affected me so much that I even got a tattoo of the slow section's sheet music on my ribs. Fantasia to me was like the gift that kept on giving and it's the piece that I played for my senior recital at the end of my senior year of high school to end that chapter and start on something bigger. That is why it is my favorite piece.
Do you have any advice for high school students?
If you are a high school student, my advice for you is no matter what you're doing, don't give up too early. Often in high school we quit things that we wish we could have stayed in for any random reason, but we give up on that certain thing before we even get the chance to really see if we love it or not. So, I guess my advice is put your whole heart into whatever it is that you're doing for at least a short period of time and if you still don't love it, then maybe consider your options, but please don't give up too fast.