WT Band Student Spotlight: Spencer Owens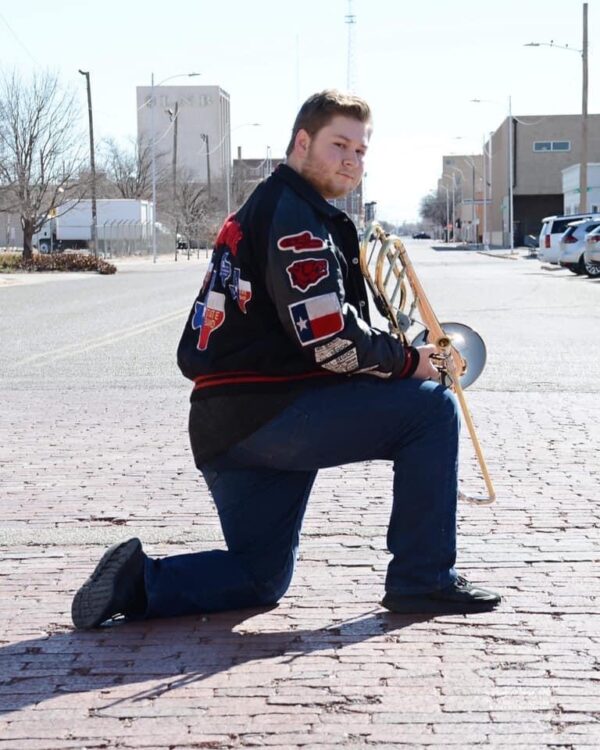 Spencer Owens is currently a freshman music education major at West Texas A&M University. He is a member of the WTAMU Trombone Studio under the instruction of Dr. John Shanks. He participates in many ensembles at WT and in Canyon, including the Sound of West Texas Marching Band, Symphonic Band, Jazz Band I, Pep Band, Phi Mu Alpha 3.14 Big Band, Trombone Choir, WT Trombone Octet, WT Trombone Detect, Brass Choir, and the Wesley Players. He has received the Don & Sybil Harrington Academic Scholarship, the Resident Underground Designated Tuition Scholarship, Provost's Scholar Scholarship, a George Eason WT School of Music Scholarship, and a scholarship from the Association of Texas Small School Bands. Before coming to West Texas A&M, he attended the band camp for 6 years. Spencer was also a member of the ATSSB All-State Symphonic Band for four years and made it to the UIL State Solo and Ensemble Competition, receiving an Outstanding Performer Award his senior year. Spencer is a graduate of Levelland High School.
Why Did You Decide to Come to WTAMU?
I came to WT for a couple of reasons. I came WT because of the music program's quality. WTAMU has one of the best music schools in the entire state of Texas, and it was only a couple hours away from Levelland. Because I am a music education major, I looked at alumni of the university to see how their music programs are doing, and a lot of them are very successful. This gives me confidence that if I came to WT, I too could have a successful career. The other reason I decided to attend WT is because attended band camp here for so long. I would always be looking forward to band camp every summer because I had always enjoyed attending band camp. After coming to band camp for so long, I realized how great the faculty and staff are at WT and I felt as if I was called to come here.
What Are Your Musical Aspirations?
My main goal right now is to be the head director of a band program. The band program that I was a part of in high school was not the best and a lot of kids did not have that many good experiences in band. I hate for that to happen because being in band can be one of the best experiences someone can have, and so I want to help change some students' life for the better. While I attend WT, my goal is to become the best musician I can be. Although my main goal is to become a great music educator, I still want to play professionally on the side because I feel like a good way to help improve the playing of my students is to practice and perform regularly.
What Do You Love Most About Music?
What I love about music is that there is nearly an infinite number of ways that someone can interpret and perform a piece of music. When a composer writes a piece of music, they are simply making an outline of what the piece should sound like. It is up to us as musicians to take that outline and make it into a piece of art. Because art is subjective and can be interpreted in different ways, each performance of a piece of music will always sound different. Even if you have heard a piece 1000 times, it will still sound different if you hear a new performance of it. The thought that music is a fine art, and like visual art, music will always be interpreted in different ways throughout history is what I love the most about music
Do You Have Any Advice for High School Students?
Never quit on music too early in your life. The only reason I am where I am today is because of my father. He is a band director and has always been involved in music for as long as I could remember. When I first started playing the trombone, I hated it because it felt awkward, and I was not that good at first. I asked and begged him to let me quit band. Since he was going to be my band director throughout middle school, he would not let that happen, and he forced me to keep playing the trombone. Since I had no choice, I reluctantly played the trombone. All of a sudden, something clicked, and now I cannot see myself without music in my life.