Introducing The Student-Led Buff Bone Initiative (BBI)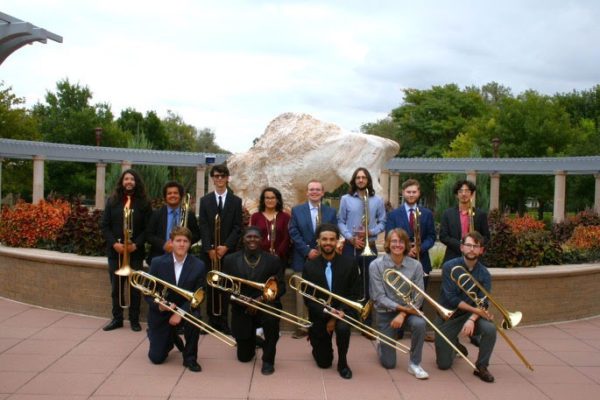 There's plenty of incredible projects happening in the School of Music here at WT that go unnoticed. One project though, has been gathering support and recognition from professionals around the country! Founded in February of 2022, the Buff Bone Initiative (BBI) is a community outreach program through the WT Trombone Studio for high school trombonists, and even a couple baritones, with the purpose of providing an ensemble for these students to learn and grow as musicians. The BBI was founded by seniors, Corey Nance of Carrollton, Texas and Abraham Wood of Floresville, Texas. The group has had great success with two concerts performed in their first 4 months of existence with a notable performance of Tara's Theme from Gone With the Wind, featuring guest soloist, Dr. John Shanks, professor of the trombone studio at WT.
Following the momentum from their success in the spring, the BBI was invited to perform at the 2023 Big 12 Trombone Conference held at Texas Tech University in Lubbock, Texas. With such an incredible opportunity, they reached out to the renowned composer, Adrienne Albert, to write them a piece to premiere for a bass trombone soloist with trombone ensemble accompaniment. Adrienne is excited to compose a new piece following ideas including barbershop harmony, jazz from the Tommy Dorsey and Glenn Miller big band era, and from standard jazz repertoire.
Equally as exciting, the BBI will host as their soloist the recently retired bass trombonist with 35 years in the St. Louis Symphony, Gerry Pagano. A fantastic musician and educator, Gerry taught four WT trombone students this summer at the Santa Fe Trombone Summit and was happy to join the BBI and Adrienne on this new project.
As a program entirely directed by students, the BBI is working hard fundraise together to make this a reality. With consortium costs and travel fees, the BBI is asking for donations however big or small to help aid them along this journey and to help this program thrive for years to come! If you would like to donate or offer help in other ways, please reach out to Corey Nance at cmnance2009@hotmail.com or find him on Facebook.
Check out the WT Trombone Studio Instagram and Facebook to see what all is happening!
Instagram: @wtamutrombonestudio
https://www.facebook.com/wtamutrombones
The Buff Bone Initiative proudly represent 6 schools in the Amarillo area:
Amarillo HS
Bushland HS
Canyon HS
Pampa HS
Randall HS
West Plains HS