TBA Hall of Fame 2023 Inductee: Jolette Mitchell Wine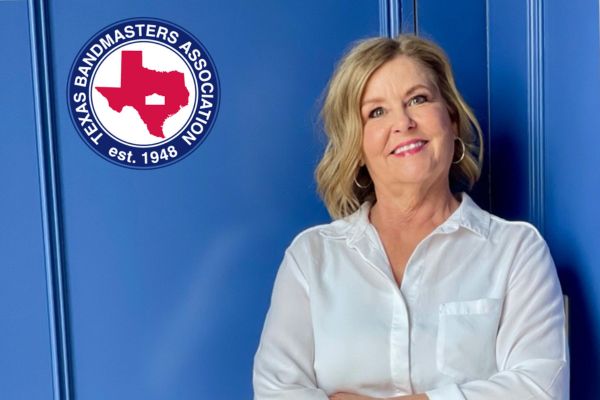 Bio
Jolette Mitchell Wine was born in 1957 to Colette and Joe Mitchell from Denton, Texas. She was the oldest of three children in a family that shared an affinity for music. Sister Michelle was an all state bass clarinet player and brother Mike played percussion for a year before realizing that he missed out on the family gene for musical talent. Mom Colette was an all state clarinet player at Denton High School with legendary band director Carol McMath. Dad Joe was a pilot in the Air Force and went on to be a captain with American Airlines. He played guitar and organ by ear and loved to sing. Grandad Odus Mitchell was the head football coach at the University of North Texas where he recruited such players as Mean Joe Greene, Abner Haynes and Ray Renfro. Growing up in that environment, it's no surprise that Jolette developed a strong passion for sports, teaching, and of course - music.
In the 3rd grade, Jolette's family moved to the growing city of Bedford, Texas where she attended school in Hurst-Euless-Bedford ISD. Her mom required that all three kids select band as their elective and Jolette started playing flute at Central Junior High with her Hall of Fame director Norman White. Life in junior high consisted of many hours of playing football in the street with the neighborhood kids and a little bit of practicing the flute. Luckily she made the region band and her first clinician was the young Barbara Prentice (Lambrecht) who she continues to admire and respect. The next step was to be in the prestigious L.D. Bell band and initially Jolette felt a bit overwhelmed. She almost gave up, but deep down she couldn't shake the feeling that band was where she belonged. High school band became the center of her universe where she developed life long friendships and a deep love of music. Each year, Hall of Fame band director Roger Winslow programmed "Elsa's Procession to the Cathedral" for graduation and Jolette will never forget the first performance of the Wagner masterpiece and the power of music bringing chill bumps to her skin. She was forever hooked.
After graduating from high school, Jolette joined many L.D. Bell students on the path to West Texas State University. She assured everyone that she was NOT going to be a band director, but always found herself getting pulled back into studying music. Having Hall of Fame director Dr. Gary Garner as both her flute teacher and her band director was a special gift and he continues to be one of her greatest influences. Jolette often tells Dr. Garner "I want to be just like you when I grow up"! At West Texas she was surrounded by students in the band who had a profound influence on her career – Don Lefevre, Cindy Bullock, Janet Doherty, Charles Johnson, Cody Myers, Ken VanWinkle, Brad Garner, and numerous others.
Jolette finished her music education degree at the University of Texas at Arlington and began her teaching career in the Lewisville ISD at Hedrick Middle School. In only her second year of teaching, she was given the head director job and began the long road of learning how to teach band. Her mantra was - ask a lot of questions to people who are way smarter than you. While learning to teach band, she also attended the University of North Texas on week nights and during the summers earning her masters degree in flute performance with her teacher Mary Karen Clardy.
When Jerry Longwell called for her to consider taking the band director job at Euless Jr. High, it was hard to say no and back home to Hurst-Euless-Bedford she went. Having no assistant director and teaching all the instruments, Euless Junior High was where she really learned to teach band. Fortunately for her there was an abundance of smart band directors in the district to help guide her. Tom Neugent, Joe Gunn, Danny Prado, Tom Wine, Danna Rothlisberger, Sherry Miller, and Sarah McKoin to name a few. She learned a lot in those six years!
After ten years of teaching, Jolette was once again questioning her future in the profession and began interviewing for jobs outside the profession. That's when colleagues called and said "You should come teach at Colleyville Middle School". What a blessing that she decided to give band directing another try. The small but growing district turned out to be a perfect fit and confirmed to her that teaching music is the greatest profession and her calling in life.
After a year at Colleyville Middle School, Jolette became a mom to Carson Wine - her greatest joy. He became a bandhall kid, hanging out every day listening to after-school sectionals. His most memorable words were "Mom, why can't you go home at four p.m. like all the other teachers"? In years to come, Jolette would have the priceless experience of teaching Carson as a member of the trombone section in her band.
Jolette taught for sixteen years in Grapevine-Colleyville ISD at both Colleyville Middle School and Cross Timbers Middle School. In 1994, the Colleyville band was named the TMEA class 2C honor band and in 2002 the Cross Timbers band placed third in class 2C. Following the Colleyville honor band concert, Randy Vaughn congratulated her in the post concert reception with the words that changed her life. "Jolette, we really need to talk about your concert F around the room"! This began a seventeen year mentorship that completely changed the way she heard the band from the podium.
It was 2006 when Jeremy Earnhart called and insisted that she come be the assistant band director at LD Bell. She thought it would be cool to teach at her alma mater but since she LOVED her job at Cross Timbers Middle School, she declined the offer. However, have you met Jeremy Earnhart? He is a bit persistent. So she went to the interview and said yes! After twenty six years of teaching middle school band, it was a blessing to learn how to teach marching band from one of the premier programs in the country and to witness the band being named the Bands of America Grand National Champion in 2007.
When the job opened for the Director of Bands at Birdville High School it was the perfect opportunity to take on a new challenge of leading a high school band. Luckily Brad White, Director of Fine Arts trusted her with this job and she learned so much being in this iconic district. Birdville ISD legends Bill Watson, Greg Hull, Cindy Lansford, Melodianne Mallow, Tony Smith, David Burks and Henry Schraub remain mentors to this day. A special memory was combining the three BISD high school bands and marching in the Tournament of Roses Parade in Pasadena.
After her retirement in 2012, Jolette started a new career of mentoring band directors in the DFW area. She enjoys working with many outstanding band directors and appreciates the opportunity to still interact with band students. Being asked to guest conduct at the Midwest Clinic with the Colleyville Middle School band and at TMEA with the Aledo High School band is an honor she will never forget. Jolette is also a part time band specialist in Fort Worth ISD where she has learned from the directors there about teaching successfully in a large urban district. Their dedication and commitment to the students is inspirational. Colleagues Chris Avila, Dick Clardy, Scott Taylor, Stacey Dunn, Gordon Hart, and Earnest Colvin have helped her to further develop her teaching and mentoring skills.
Jolette will never take for granted that ALL of the Band Directors she learned from growing up are now members of the Hall of Fame. The fact that she will join them in this achievement makes it even more special. She's lucky to have been blessed with so many unforgettable mentors, colleagues, students, and friends that have helped her throughout this incredible journey.