WT Band Scholarship Spotlight: Coby Mount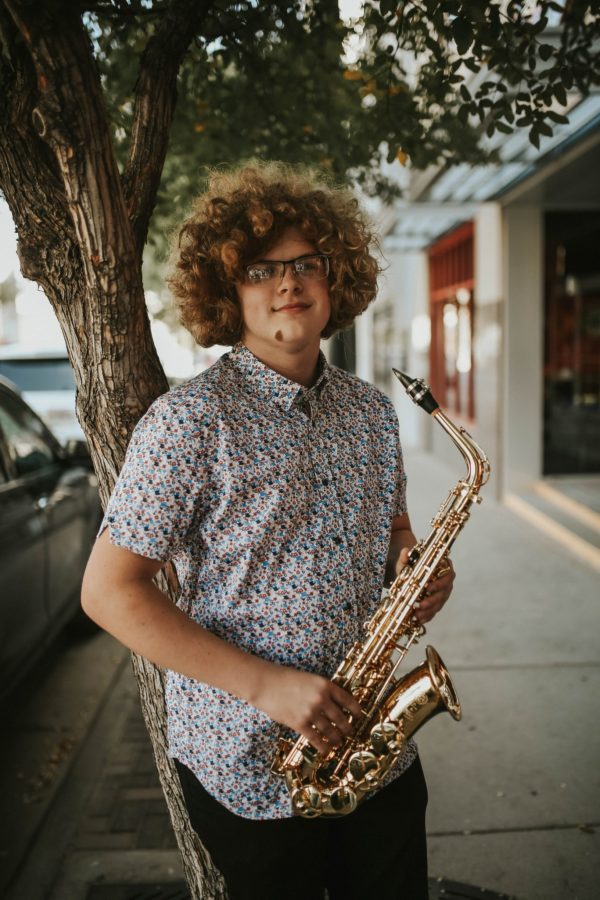 Coby Mount is a sophomore music education student at West Texas A&M University, as well as a student of the WTAMU saxophone studio under the direction of James Barger. Coby graduated from Midland High School with the Class of 2021 and performed in Midland High School's band, orchestra, and jazz band for four years. Coby was a member of the All-State Band in 2021 and was the first student from Midland High School to ever audition for the All-State Jazz Band.
Coby Mount has been playing saxophone for eight years and is a proud member of West Texas A&M's saxophone studio. Coby is performing with the WTAMU Saxophone Studio Ensemble as a baritone saxophonist and is the baritone saxophone player for Jazz Band II. He is also the baritone saxophonist for the Komorebi Saxophone Quartet at West Texas A&M. Coby is a part of WTAMU Marching Band as a member of the color guard rather than a saxophonist. He also plays double bass and has a strong orchestral background. Coby is the recipient of the Dr. Gary and Mariellen Garner WTAMU Bands Scholarship.
Why I Chose WT:
As someone unsure of their future with music at the approach of high school graduation, I did not know where I should go to receive a higher education, or if I wanted music to be a part of it at all. At that point, I had never heard of West Texas A&M or its highly esteemed saxophone studio. However, a plentiful handful of my high school band/orchestra directors are all WT alum, and they all urged me to audition as soon as possible. It was the only school I had auditioned for, and the more I dug into its program and its environment, the more I became attracted to the idea of attending. What started as an uneasy search for something greater became one of the best decisions for my musicianship and general character I have ever made.
Musical Aspirations:
I think my biggest goal as a musician is to be able to score music for film and video games. Growing up, I was always attached to the sound I associated with the media I consumed. Even without being able to put a finger on what made it so interesting, the idea of being able to replicate some of my favorite aspects of media was tantalizing. I am especially inspired by the soundtracks of films like Whiplash and Saturday Night Fever, as well as video games such as the Fire Emblem series. As I expose myself to more musical ideas and approaches, the dream I have of being able to create something, to evoke that sense of joy that I have felt with music, comes closer to becoming my reality through my decision to pursue music.
What I Love Most About Music:
Music is very broad outlet for expression in many ways. On one hand, that means it can be tough to encapsulate everything you want to say or express into such open roads. On the other hand, the feeling of taking your emotions and placing them into the music you associate with is such an ethereal experience that is personal to you and ONLY you. The best part is that this equivalence of exchange in satisfaction works whether you are playing music, listening to music, writing music, or even simply talking about music. I enjoy music most for that reason: the ability to express your ideas simply because they are yours. However, I think my favorite examples of this idea are "the little things." This takes shape in many ways. For example, you can play the most dramatic piece of music and crack one note from the sheer intensity of your emotion. You can insert a lick you have heard from a recording into an improvised solo. You can write music that makes you happy to hear and play based on how YOU feel about it, not anyone else. These are not broad, complicated ideas; rather, they are just little personal details that add up. Music is an entirely selfish endeavor, and being able to insert the most minute parts of yourself into it is unbelievably satisfying.
Favorite Piece I Have Performed or Would Like to Perform:
There are so many pieces I have enjoyed playing in my time as a musician, but as I try to pick a favorite, nothing sticks out in the way that The Gorillaman Blues by Mark Taylor does. I had so much fun playing this piece with WTAMU's Jazz Band I last year, and I technically was not even supposed to. I was only substituting the baritone saxophonist in that band because they could not make it to the concert. Something about this piece is so simple, and yet so deep. So mellow, but also in your face. It is nothing short of an amazing piece of music, and I was so lucky to perform it.
There is no piece I dream of performing more than Cyber Bird Concerto by Takashi Yoshimatsu. This alto saxophone concerto is so beautiful and unique, but also immensely complicated, raw, and especially difficult. It is a very special piece to me, and being able to play this entire piece with a full orchestra would be nothing short of amazing.
Go-To Quote:
"You must learn the sorrow of the common man. Your truth is not the reality of all."
-Sigurd Chalphy, Fire Emblem: Genealogy of the Holy War