WT Band Scholarship Spotlight: Joseph Henriquez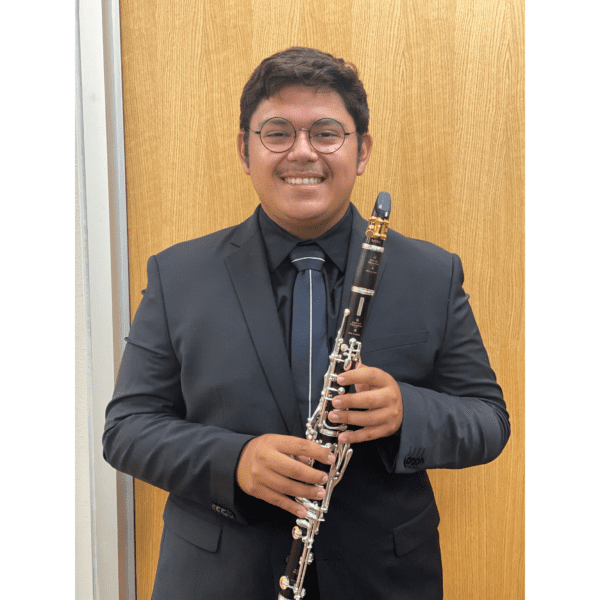 My name is Joseph Henriquez, and I am from Arlington Texas. I attended Mansfield High School and was a proud member of the Mansfield tiger marching band. I was also a part of the 2020 TMEA All-State Symphonic band.
I am now a Junior Music Education/Music Technology Major at WTAMU. I am a part of the WT clarinet studio. I am Receiving the Dr. Gary and Mariellen Garner WTAMU Band Scholarship. I am very thankful for this scholarship, it is an honor to even be considered for it.
Why I Chose WT
I chose WT for the people. During the time I was in high school, I was always afraid of having to look for a college I wanted to go to. I didn't even know if I wanted to go at all because my parents never went to college. I didn't know if I wanted to put them through having to pay for my college education. But, my band director during my high school career was a WT alumni. He would always talk about where he went to school and how welcoming and caring everyone was. I had also had a handful of clinics with Dr. Garner. I remember the moments when he would come to the band hall and ask all of us where we were thinking about going to college. And he too would talk about the ambience of the school and the professors. I then made the decision to audition.
Musical Aspiration
During my musical career, I wish to become a Music educator, producer, and performer. I want to be able to spread my love of music to everyone. I want everyone to experience the thrill and joy of creating music. I think that is important to make fun life long memories about making such a beautiful thing with your friends and colleagues. I want to help people appreciate and enjoy music.
What I Love About Music
Everything. Music is one of those things that has no limits. The joy that I get when I am creating something that is so special is out of this world. It gives you the opportunity to be free and creative. You aren't bound to anything. I feel that music speaks more than words in many ways. It has the ability to make feel deep emotions that words can't.
Favorite Piece
My favorite piece for Clarinet is Première Rhapsodie By Claude Debussy. This Clarinet solo offers and hand full of difficult challenges. It is a beautiful lyrical solo that also throws in to very quick and fast paced technical passages. It really explores a large range of the instrument. The piece is a master work, and over all just gorgeous. It brings a tear to my eye every time I play or hear it be played. I am so grateful to have had the opportunity to learn such a great piece of music.
Go-to Quote
"So long as the human spirit thrives on this planet, music in some living form will accompany and sustain it."
- Aaron Copland