WT Band Student Spotlight: Kyndahl Britton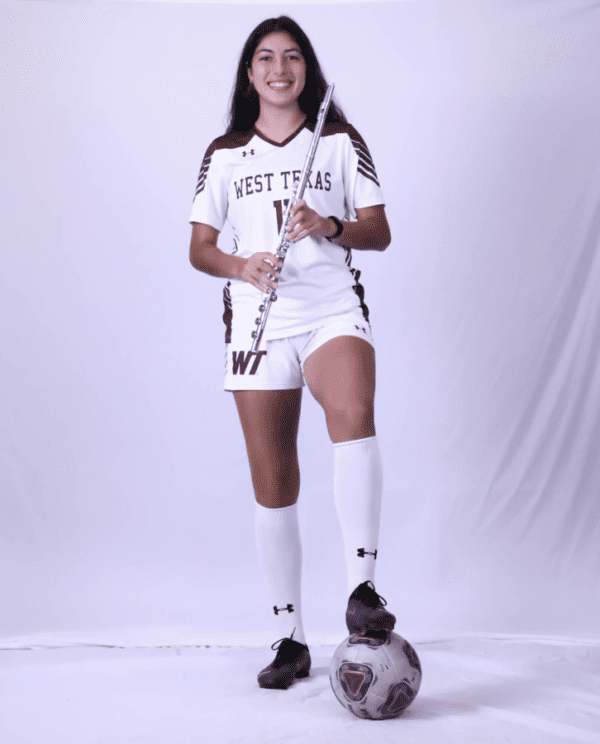 WT Band Student Spotlight: Kyndahl Britton
Why WT:
I came to WT for the people and the opportunity to pursue both of my interests. As a student-athlete, I had talked to other schools for the soccer side of my life, and as soon as I mentioned music, most of them turned the other way. But when I talked to the coach and music department here, they were willing to work with me. Just based off this first interaction, I knew WT would be a good fit for me. Not only are the people here just good people in general, but there is also the history of successful alumni and high-quality ensembles. Specific to my instrument, I knew Helen Blackburn would push me to be the best musician I could be, and I couldn't be more glad to have ended up here.
Musical aspirations:
After finishing my undergrad in performance at WT, I plan to attend grad school to further my education and playing ability. I am hoping to be a musician in a major symphony as well as teach in some manner. Ultimately, I just want to keep playing for as long as I can and inspire others in the same way that I have been inspired in the past.
Love about music:
Music has been the one thing in my life that is always there. I started at a young age because of my sister. She had just started learning flute in the 6th grade, and I thought it was 'the coolest thing ever' and wanted to be just like her. I remember that when she would get home from school, I would beg her to teach me how to play the flute. I kept playing long after she had stopped and found new reasons to play. I loved the way that I could always find comfort in music throughout my life. I also love the way that music challenges me. In being a musician, you never stop learning. There is always something you can improve on no matter how long you have been playing.
Advice:
Don't let others tell you what to do. You still have a full life ahead of you, don't choose something just to make others happy. I have been told by many people that music isn't fulfilling because it's not a guaranteed job, or a financially smart job choice. But I won't let that scare me off, because it is something that I genuinely enjoy doing and want to continue doing for as long as I can. Whether it is music, or not, don't sacrifice your own happiness for someone else's idea of you.
Background:
-My dad went here '86-'90
-Jackie Wafford Mercer President's Honor Scholarship/Music
-Don and Sybil Harrington Academic Scholarship
-Institutional Scholarship
-Womens Soccer scholarship
-2x 6A TMEA All-Stater
-Attended Interlochen Arts Camp Intensive
-Attended NEC Prep summer orchestral institute
-In Symphonic band and the orchestra
-Attended band camp 2 times