WTAMU Trombone Octet Tour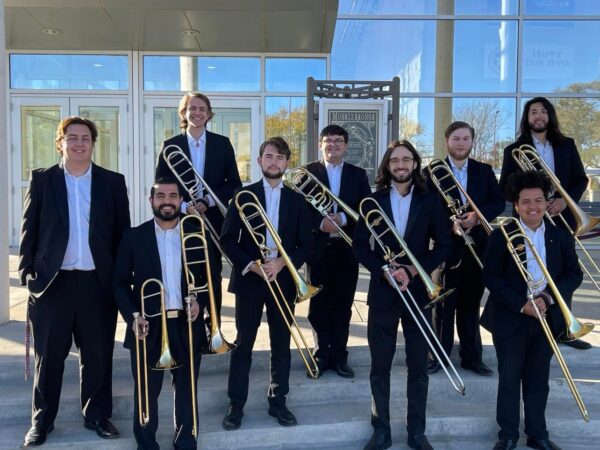 Exciting News coming from our Trombone Studio led by Associate Professor of Music, Dr. John Shanks!
The WTAMU Trombone Octet will tour several high schools near Houston and San Antonio between 12/12 and 12/17. This octet was formed by, fully rehearsed by, and directed solely by current WT Trombone Studio members. It is a purely student-run ensemble.
Here's what Dr. Shanks had to say about the upcoming tour:
"As the trombone professor, I couldn't be more proud of them for their initiative, drive, and spirit. It speaks so positively to the culture we've collectively built in this studio (and School of Music) that current members are voluntarily giving up some of their break to go recruit for us!"
Program:
Alarming Disturbance* - Mason Lafferty
Octet - Gordon Jacob
Allegro
Andante sostenuto
Allegro
To the Canyons and the Blankets of Stars* - Meghan Brooks
Provence - Jeremy Dibb
Judgement Day* - Trace Bails
* denotes WTAMU student composition specifically for this ensemble
Personnel:
James Dewey
Brayden Hebbel
Cyrus Jackson
Corey Nance
Spencer Owens
Mathew Santiago
Justin Slaughter
Abraham Wood
Conductor:
Trace Bails
Planned performances:
Monday, December 13: College Station High School, A&M Consolidated Middle School, Brenham High School
Tuesday, December 14: Hargrave High School
Wednesday, December 15: North Shore Senior High School, Dripping Springs High School
Thursday, December 16: Floresville High School
We wish the Studio the best on their travels down south and are looking forward to hearing about the success of their tour.